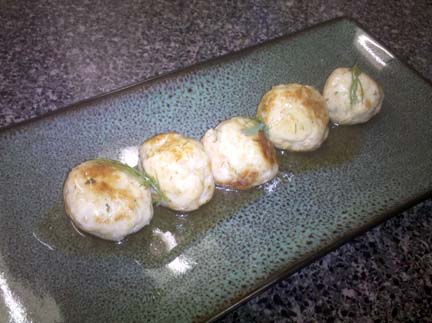 Today's recipe is a treat as I would never have thought before that I could have Swedish meatballs become a part of an acid reflux friendly diet. The biggest GERD troublemakers are replaced by ingredients that will not cause problems, and this is all done without sacrificing texture or flavor. Forget the image of fatty beet swimming in sour cream as this is a dairy free and a low fat meal.
1 cup of bread crumbs
2 egg whites
1 teaspoon of salt
2 pounds of ground turkey breast, refrigerated
2 tablespoons of olive oil
3 tablespoons of starch
1/2 cup of water
3 cups of beef stock or broth
1 tablespoon of Worcestershire sauce
1/4 cup chopped fresh dill
Preparation Steps:
1. Preheat the oven to 350F.
2. Create the meatballs: Combine bread crumbs, egg whites, salt, and turkey in a large bowl and mix using your hands.
3. With wet hands, form the turkey mixture into 1-inch sized balls. Refrigerate until ready to use.
4. Heat oil in a large nonstick skillet over medium-high heat until hot.
5. Place the meatballs in the skillet and once brown on all sides, transfer them to a 9x13-inch baking dish.
6. Cover the baking dish well with foil and bake in the preheated oven for a period of 20 minutes.
7. While the meatballs are in the oven, combine the water and cornstarch in a small bowl and stir until smooth. Set aside.
8. In a large saucepan over medium-high heat, add the beef stock and Worcestershire sauce and bring them to a boil.
9. Whisk in the cornstarch mixture and continue whisking until the liquid begins to thicken.
10. Remove from heat. Pour this mixture over the meatballs and stir well.
11. Keep warm until ready to serve.
This recipe has been modified from the one found in the book "Eating for Acid Reflux" by Jill Sklar and Annabel Cohen.